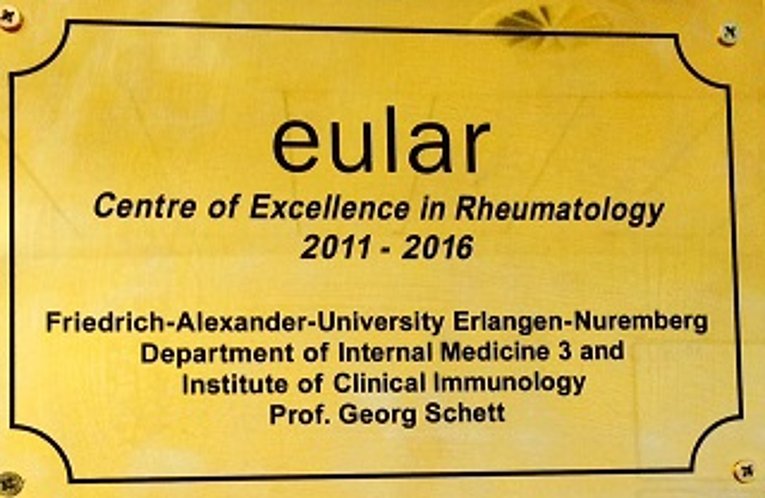 Excellence center of rheumatic and infectiological diseases
For its outstanding scientific achievements, the Department of Medicine 3 - Rheumatology and Immunology was awarded the Center of Excellence for the second time by the European League Against Rheumatism (EULAR) in 2011. The Clinic in Erlangen is thus one of the leading European competence centres for the research and treatment of diseases of the immune system and musculoskeletal system. The EULAR promotes excellence in teaching and research and supports the implementation of results from basic research into patient care. Currently, 18 centres in Europe bear this title, which is valid for five years.
In the field of clinical infectiology, the Department of Medicine 3 - Rheumatology and Immunology has been certified by the German Society for Infectious Diseases (DGI) (=Deutsche Gesellschaft für Infektiologie) as a Centre for Clinical Infectious Diseases (Zentrum Klinische Infektiologie DGI).
The Department of Medicine 3 is distinguished by its high-quality, interdisciplinary and comprehensive care of patients with infectious diseases. In addition to the high quality of care, our clinic has once again been distinguished as a training and further education centre for young clinical and scientific staff.