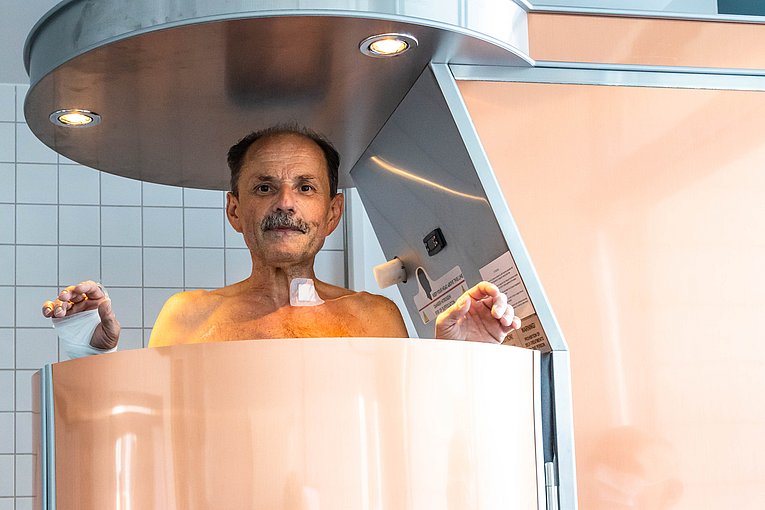 Refreshing. Activating. Holistic.
Cryosauna - full body cryotherapy
Whole-body cryotherapy is a highly effective treatment method that was developed in Japan and has been known in Europe since 1980. In Germany it was introduced in 1985 in various clinics and since 1998 it can also be performed on an outpatient basis.
Procedure
There are 1-, 2- and 3-chamber systems in which up to 6 persons can be treated simultaneously. There is always only one actual therapy room. Our cryosauna is a 1-chamber system for single treatments, cooled down to a temperature of -110°C to -140°C with liquid nitrogen. Head and hands are not in the cooling area and therefore normal room air is breathed. The cold chamber is extremely dry. As a result, the low temperature is usually perceived as comfortable during the 1-3 minute duration, even in bathing clothes with socks.
Mode of action
The effect is based on the sudden cooling of the skin with partly nervous-reflective partly biochemical influence. The body temperature drops only minimally. Presumably, reflex arcs in the spinal cord are triggered by influencing the pain and temperature receptors of the skin. Nerve conduction velocity and certain neurotransmitters are altered. However, the details are only partially known.
Therapeutic effects
In the short term, there is a decrease in pain and an increase in well-being and mobility due to improved joint function. Shortly thereafter, a feeling of warmth often occurs. This initial effect lasts for about 2-6 hours. After 6 weeks of treatment, almost 70% of patients are able to significantly reduce painkillers and rheumatism medications or, in the case of certain diseases, can even do without medication altogether.
Other positive effects are the increase of lung volume, increase of one-second capacity and oxygen saturation of blood, decongestion of bronchial tubes, decrease of carbon dioxide content and decrease of skin tension, especially in psoriasis and neurodermatitis.
Frequency of use
Initially, the treatment should be as frequent as possible, up to 1-2x/day. However, this depends on the circumstances (e.g. place of residence). At least 20 applications are necessary for a long-term effect.
When should the cryosauna not be used?
We will inform you in detail about the so-called contraindications if you are interested in the treatment. You can also ask for an information sheet or our flyer. All in all, it is similar to the sauna.
What side effects have been observed?
Applications in the cold chamber are generally very well tolerated. So far, no side effects have been reported. Occasionally, redness or blisters on the skin - similar to sunburn - may occur. The typical stress hormones do not rise. Therefore, children, elderly people and patients with pre-existing conditions can usually be treated without any problems.
What must be taken into account?
Metal objects, glasses, contact lenses, watches, etc. must be taken off. Ointments or cosmetics, showers and hair washing before the therapy should be avoided.
When does the cryosauna help?
in chronic inflammatory and degenerative diseases of joints and spine
in psoriasis with and without joint pain
in soft tissue rheumatic diseases
chronic pain and fibromyalgia
sports injuries and operations on joints and spine
with disturbed muscle tone and muscle stiffness, as they occur with multiple sclerosis or infantile cerebral palsy
in chronic sleep disorders
in neurodermatitis
Costs
It is not a statutory benefit of health insurance companies. Therefore, a contract for an individual health service (IGeL) (outpatient) or an optional service (inpatient) must be concluded for treatment.
Prescriptions for remedies (prescriptions)
Remedies according to the catalogue
Short
Physiotherapy
KG
Manual Therapy
MT

Physical therapy
Cold therapy
Warm therapy by Ultrasound
Warm therapy by warm package


KT
WT Ultrasound
WT Warm package/ Fango
Ergotherapy (must be ticked at the top right)
-